Hello everyone! I hope your school planning is coming along well. Some of you might still be trying to figure out how to plan it all for the year and keep it organize: school, house, extracurricular activities, meals, and everyone's schedules. Today I'll be sharing a review I did on HEDUA's brand new product: The brand new digital version of My Well Planned Day Planner. HEDUA has great products and as usual they break the standards in quality and functionality.
Once in HEDUA's website, under "Software" you can register/log in into your account: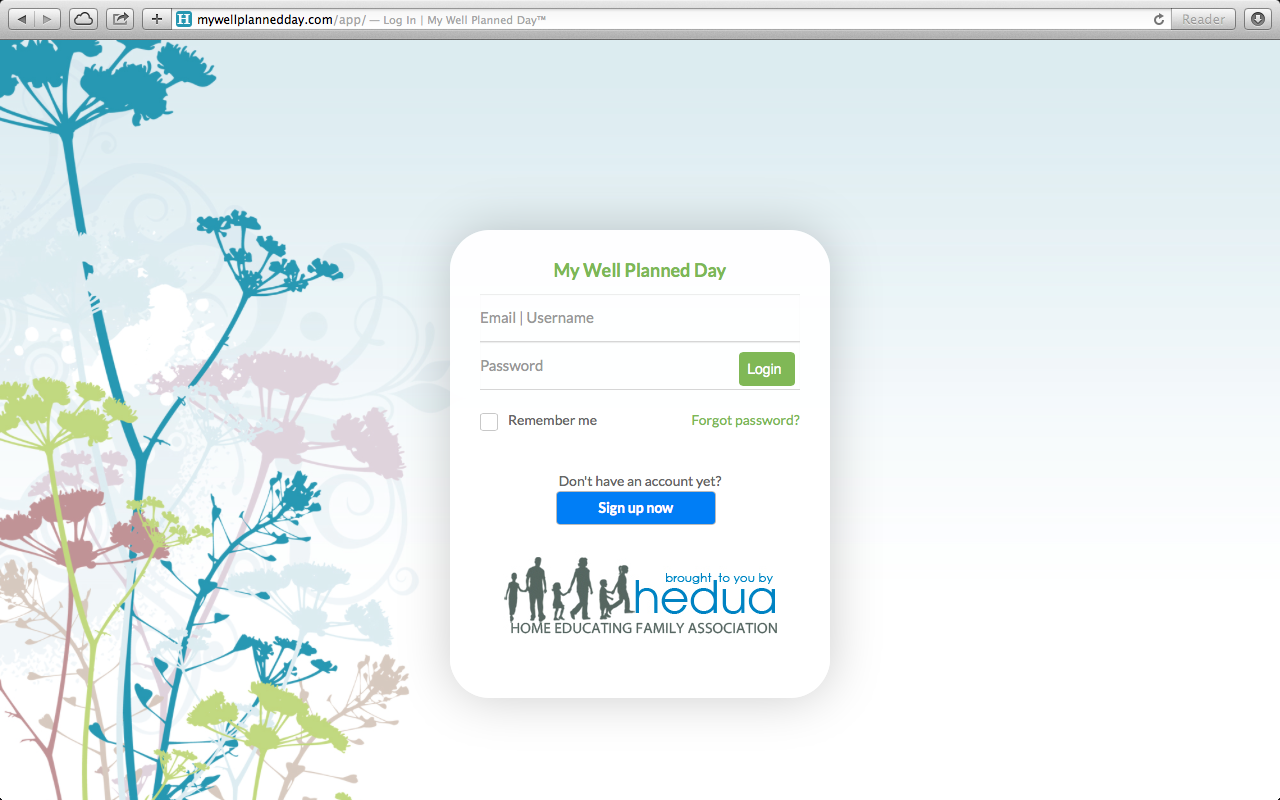 Once logged in, you can begin experimenting with all the functions, or you can go under your account and see the video tutorial on how to get started: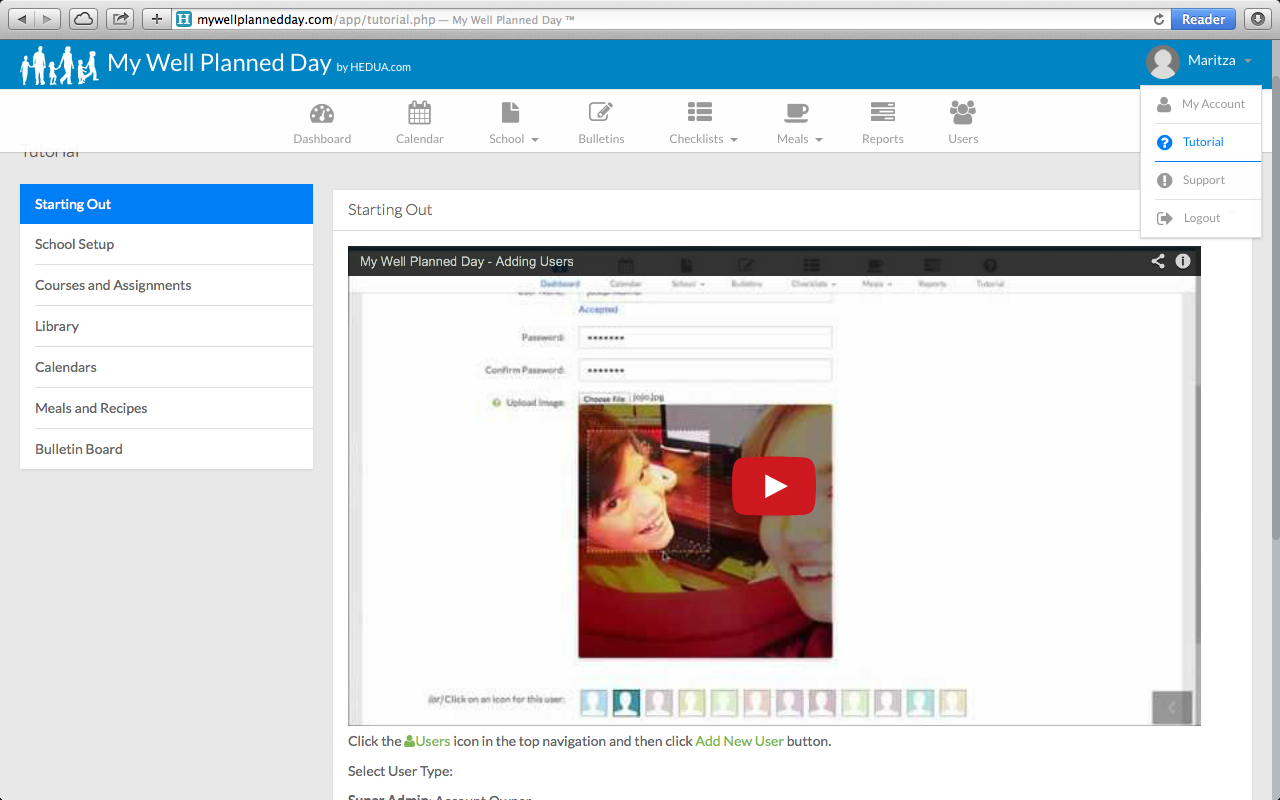 The software is user friendly making it easy to navigate, experiment and create within it.
This digital version has many functions including the integration and interaction of several users. It is perfect for homeschooling families with children in the upper elementary grades and higher.
The different components in each area of planning include:
1) Dashboard: Quick overview for the day's activities
Shows assignments: they can be color coded for each user
Shows Monthly Calendar with all the activities or events created
To Do Lists (self explanatory…)
Today's Meals: recipes and meals that you have already created under the "Meals" page
Shopping Lists: anything you need to be reminded of, will be here
It also includes the latest article in HEDUA's blog at the bottom
Once you have worked on each page (Calendar, School, Bulletin, Checklists, Reports, Users), your Dashboard would be complete, and each day when you log in, you would be able to see everything at a glance: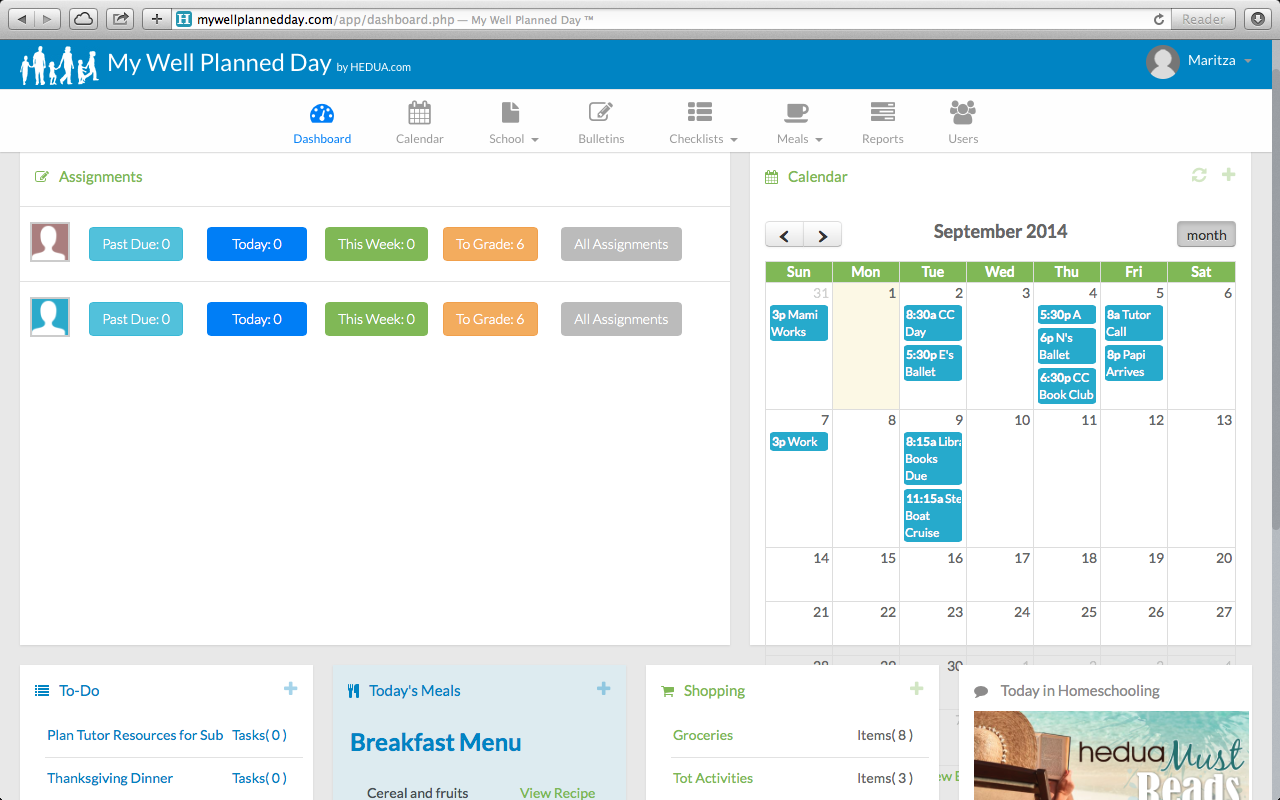 2) Calendar: a really nice view for all three options including by time in the weekly and day options. Very handy for keeping up with everyone's schedules.
3) School: divided into several needs
School setup: This is where you would create your school year plan.
Library: Books can be added by ISBN number, and an image can be uploaded as well (perfect for all the detail-oriented homeschooling moms).
Courses: add courses with their respective books from the Library you created and add the times.
Attendance: Can keep attendance of each student with easy click and drag function.
This is an example of how the Course page would look like: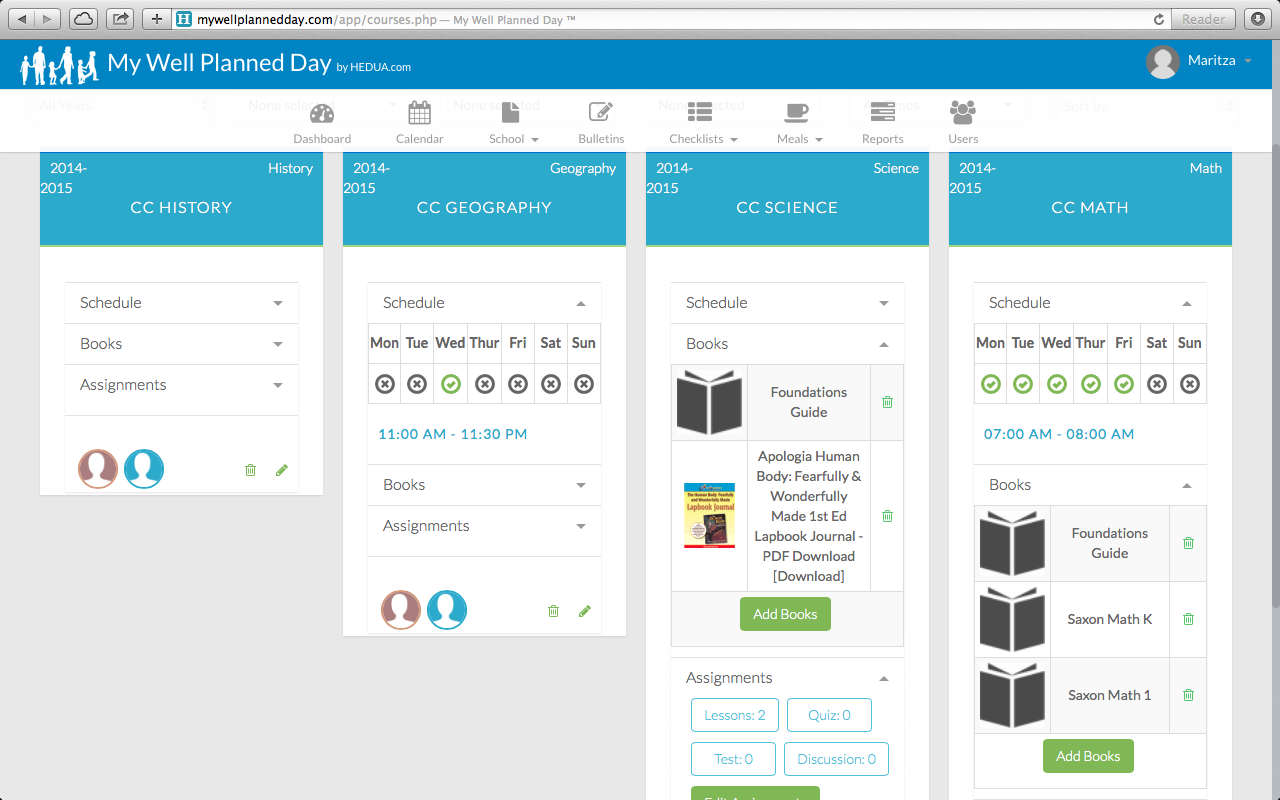 Each course has a drop down menu for the schedule, books, and assignments for that specific course.
4) Bulletin: it includes a page where everyone can write posts, share memories, like each others posts and even comment. Features included are:
Posts: notices for all users to see
Photos: fun, memorabilia, etc to share within the family
Videos: anything related to school or home, whatever you wanted it to be.
Like option: users can use this to notify who ever posts that they have been informed.
Comment option: freedom of speech for everyone!!!
This bulletin works like a very personal, family social media page making it a digital scrapbook of fun memories.
5) Checklists–These can be added and assign to users. Once added under this page, they appear on the Dashboard. Features:
To Do Lists: anything that needs to be done, reminders, etc., and easily editable for completed tasks.
Shopping Lists: never forget anything at the store (unless you forget to add it to the list)!
6) Meals–You can add several recipes for all meals and then add them to the meal calendar, it will then show on the dashboard as "Today's Meals". Features:
Recipes: create your own or add links from the web.
Meal Plans: I didn't get to experiment with this one much, but you can create a whole plan for events (I believe…).
Meal Calendar: plan weekly or for the whole month!
7) Reports: This feature is still being work on, but it will essentially give the user the capability to print lesson plans from the dashboard once created in this feature.
8) Users: You can add several users and assign them a "rank". The "owner" of the account is the Super administrator, but you can add husband to be teacher and your children the students. It's pretty neat because you can add a profile picture to each user and also color code each user for assignments. Usernames and passwords can be created for each user to login to the software an even emails, which they would be sent and asked for confirmation to that user.
I like this software quite a bit. It can be accessed from desktop and mobile devices such as tablets and smart phones by all the users.
The Pros:
It is very user friendly with an excellent video tutorial for planning school.
Multiple user integration, which makes it easy for everyone to see their assignments and view important house and extracurricular activities so everyone can plan accordingly (Command Center).
All in one place planning, where all school schedules, house chores, to-do lists, shopping and even social capability to share photos or videos. Quite fun and nice for dad to see what's going on and be up to date with the whole family's activities.
Beside its high quality and functionality, it is very pretty. Just like the printed planners, this digital version is also tastefully designed (I'm a fan of beautiful and classy).
The Cons:
A little time consuming. User have to spend a good time understanding and learning the software, and then putting in all the information (but like most planning, it all takes time). Once everything is completed, then it is wonderful!
User integration might be most useful when children (students) are old enough to be able to do independent learning, so not too useful for families with little ones. Still, it would be nice for Mom and Dad to be "on the same page" of planning.
 The price might not be accessible for every family (Retail is $64.99, today only is $49.99 for one year subscription), but thinking about it, it is like purchasing the whole family's planners and every single planner (home, personal, school, etc.) into one place, and considering how technological it is, and the services provided (including ticket system for any technical issues), it makes it worth it.
I thank HEDUA for providing the option for everyone to try it free for 30 days before actually purchasing it. If this digital planner could work for you, but not sure of purchasing it quite yet, you can try it for free by clicking in the image below. No credit card required, your account would just expire after 30 days.
Have a blessed and productive week!

Disclosure: I complimentarily received the trial version of this resource in return for a review. I just recommend products that I personally use and deem useful for my readers. All opinions are entirely my own. This post contains affiliate links, which means that I get a commission from any purchase you make through my links at no extra cost to you. By doing so, you would be supporting my blog and I would forever be grateful to you.